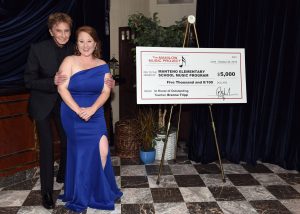 The Manilow Music Project and iHeartMedia teamed up to honor "Outstanding Music Teacher," Brenna Tripp, by giving her a VIP experience to Manilow's concert at Westgate Las Vegas Resort & Casino where the pop icon has a residency. Tripp will be traveling to Las Vegas to meet Manilow before his concert on Friday, October 26.
Tripp was chosen from hundreds of nominations received by iHeartMedia via a national campaign, who reached out to their listening audience asking them to nominate a music teacher they felt deserved a VIP concert experience which included a two-night stay at Westgate Las Vegas Resort & Casino, dinner, two front row tickets, and a chance to meet Manilow backstage. After reviewing the nominations in an open process, iHeartMedia selected Tripp as the winner. Tripp teaches music at Manteno Elementary School in Manteno, IL outside Chicago.
"To say that I am excited about our first trip to Las Vegas, and the $5,000 for my school, is an understatement, said Brenna Tripp. "This generous donation from the Barry Manilow Music Project will be used to support the numerous creative endeavors of the young musicians of Manteno. Our little town is incredibly supportive of the arts, its teachers, and the families that call this community home. We hope to use these funds to meet the ever-expanding needs of our students and provide them with every musical opportunity that their hearts desire. I honestly have the best job and I am grateful for the opportunity to strengthen the financial support for these amazing kids.
This award is an amazing honor to receive, and I can't thank Kaylee Aagent enough for nominating me. Music has been the greatest gift in my life. It provided me with a creative outlet in my youth. It is a powerful and life-changing force, and music continues to change my life in positive and incredible ways. Again, I am so thankful for this award and I can't wait to share what we our young musicians of Manteno do with the donation in the future."
"iHeartMedia is committed to serving the communities in which we live and work, and this campaign was a great opportunity to uncover incredible teachers who are positively shaping the lives of students across the country," said Alisa Pollack, EVP, Global Music Marketing and Strategy, iHeartMedia.
The Manilow Music Project is part of Manilow's non-profit, the Manilow Fund for Health and Hope. The mission statement of the Manilow Music Project highlights the importance of music programs in our schools and donates instruments and materials to school music programs.
More information please visit:
www.manilowmusicproject.org